Tertiary Vapor Recovery Equipment - 3D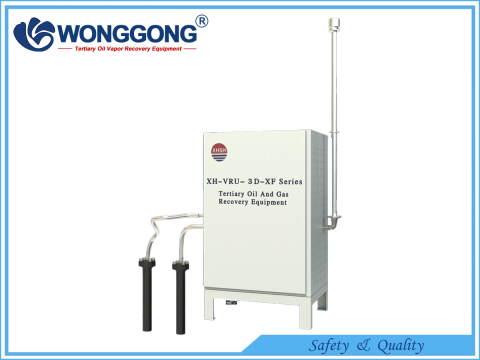 Tertiary Vapor Recovery Equipment - 3D
Product overview
Given the high emission concentration of oil vapor VOCs, difficult desorption of adsorptive materials and hazardous waste generated during recycling in existing equipment, our company has tackled key technical problems on process, core materials, and control system, etc. We have successfully developed XH-VRU series triple oil vapor recovery equipment that can be used repeatedly for gas stations.
The polymeric nanoscale fluorocarbon copolymer is used for the core component of XH-VRU series equipment, international famous brand is for electrical components and the control system is optimized. With a leading position in the industry, XH-VRU series equipment afford several advantages of high oil vapor processing efficiency, reliable operation, low energy consumption, no replacement of adsorbent materials, and no hazardous waste. Its remote wireless control system is intelligence, informatization and emission concentration visualization.
Product principle
Link for oil vapor processing Through the secondary oil vapor recovery system in refueling machine, the oil vapor caused during refueling goes into oil tank. When the oil vapor reaches a certain pressure in oil tank, they enters the adsorption system via inlet based on the set flow rate, the oil vapor molecules are adsorbed and the permitted air is discharged through the discharge pipe of the equipment.
Link for oil recovery When the adsorption system is saturated, the intake valve and vent valve are closed and the vacuum pump is started. Through the analytical system, the oil vapor in the adsorption system is analyzed into liquid oil that is recovered to oil tank via return port, and the whole process of oil vapor recovery for three times is completed.
Technical advantages
Low VOCs (oil vapor) emission values, a leading standard
At present, the national standard for VOCs emissions of gas stations is 25g/m³, the leading local environmental protection governance in Beijing, China is 10g/m³. Our company's standard is 5g/m³, which is 5 times higher than national standard and 1 times higher than Beijing new standard, 7 times higher than the latest European standard.
Low energy consumption and high economic benefits
With simple physical adsorption process, there is neither large power consumption like the condensing device needed, nor cost of replacing activated carbon regularly. A gas station that consumes 10 tons per day, its average daily power consumption is less than 2 degrees and monthly consumption is less than 60 degrees, which greatly reduces the operating costs of customers.
No secondary pollution, easy to operate and maintain
The core component adopts nanoscale fluorocarbon copolymer, which can be activated and reused, with a life span of over 5 years. While activated carbon adsorption material needs to be replaced regularly for its short life, and the hazardous waste generated needs to be chargeable disposed by the hazardous waste treatment unit.
Closed dynamic intelligent management
Based on the emission standard and storage tank pressure, the equipment operating conditions are dynamically adjusted to intelligently adapt to the operating frequency during peak and low periods of the gas station, the service life of the equipment is extended thereof.
Real-time remote control, on-line monitoring, information sharing
The equipment operation can be real-time monitored in wireless or wired by using intelligent automatic control and background display system with data remote transmission and control function; Its fault point can be automatically judged and alarmed when fails with fault self-diagnosis function; Its gas emission concentration can be real-time monitored on-line and information would be shared with environmental protection departments.
Safe and reliable
It has heat-resistant (>400℃) core material without combustion or smoldering. The composite desorption ways as subatmospheric pressure desorption and thermal desorption can be used. The whole machine uses 304 stainless steel with high corrosion resistance and can be long-term used.
Application environment
The equipment is suitable for zone 1 and zone 2 where there are explosive mixtures of combustible gases, vapors, and air in the temperature groups T1 to T4 of class ⅡA and ⅡB
Atmospheric pressure: 80-100kpa
Ambient temperature: -20℃-40℃
Relative humidity: ≤95% (25℃)
Three Barrels of Oil (short for CNPC, Sinopec Group and CNOOC) supplier certificate;
ISO9000 quality system certification;
ISO14001 environmental management system;
OHSAS1800 occupational health and safety system management;
Comparison among product process plans
Security

Footprint

Maintenance

Consumables

Advantages

Disadvantages

Nanometer adsorption bed

adsorption

Safe

Outdoor 0.6㎡

Activating

periodically

every five years

Non

Advanced technology,

high security,

low energy consumption and low emission concentration,

no secondary pollution

No problem found yet

Activated carbon

adsorption

Unsafe

Outdoor 2㎡

Replacing

activated carbon

periodically

for 1-3 months

Activated carbon

The required processing efficiency can be achieved at the beginning

Complicated process,

high temperature hot spots are easy to occur in the adsorptive bed and cause hazardous waste

Absorption

Safe

Outdoor 2-3㎡

Changing absorbent

periodically

Absorbent

Simple process,

low investment cost

The equipment covers a large footprint, and its recovery rate(only about 80% generaly)

is too low to meet the standard

Membrane separation

Safe

Indoor 3㎡

Daily maintenance,

replacing membrane for 3-5 months

Membrane

Relatively simple process, and the emission is up to standard

Large investment cost

Condensation

Safe

Outdoor 2.4㎡

Supplementing

refrigerant periodically

Refrigerant

Be safe and

no hazardous waste

High cost, it needs to be cooled to a very low temperature in order to be up to standard, which consumes large power

Condensation+

activated carbon adsorption

Relatively

safe

Outdoor 2㎡

Changing activated carbon and

supplementing refrigerant periodically

Activated carbon

refrigerant

High processing efficiency

Complex process, high failure rate, frequent maintenance, high

cost, resulting in hazardous waste
Selection of specifications
| | | | |
| --- | --- | --- | --- |
| Gas sales volume (ton/day) | Product model | Motor power (KW) | Electric current (A) |
| <10 | XH—VRU—3D—XF | 0.25 | 0.75 |
| 10-30 | XH—VRU—6D—XF | 0.75 | 1.88 |
| >30 | XH—VRU—15D—XF | 3 | 6.5 |
Comparison among the polymer nano adsorption material, traditional filling adsorption material and honeycomb structure adsorption material
Adsorption control technology

Traditional filling adsorption

Honeycomb structure adsorption

Polymer nano adsorption

Characteristics of technology

Adsorbed powder is easy to fall off and produce dust

Adsorbed powder is easy to fall off and produce dust

Adsorbing oil vapor in an all-around way

High pressure impedance with high energy consumption

Low pressure impedance is tend to exceed the time limit

Handling oil vapor with high flow rate

High material transfer impedance and long desorption time

High material transfer impedance

Low material transfer impedance

Gas emissions are tend to

exceed the time limit

Long desorption time and high energy consumption

Fast adsorption and high desorption efficiency

Surface/volumn>400㎡/m³

Surface/volumn>800㎡/m³

Surface/volumn>3500㎡/m³

Large footprint

Large footprint

Multi-functional integrated design with small footprint

Operating cost

High (high replacement frequency)

Middle

Low

Treatment of concentration (PPM)

1,000-10,000

1,000-10,000

1.0-50,000

Treatment of flow (NCM³H)

10-1,000

10-1500

100-8,000

Removal rates (%)

10-90%

50-90%

7